Dillon Arango, M.D.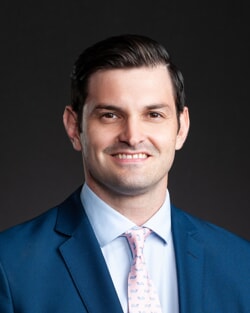 Board Certified Orthopedic Surgery
Dr. Dillon Arango is an orthopedic surgeon and South Florida native. He graduated Cum Laude with honors, from Florida International University (FIU) with a degree in Chemistry. Dr. Arango then received his Medical Degree with honors as part of the first graduating class from the FIU College of Medicine. He was later accepted into orthopedic surgery residency at Einstein Medical Center in Philadelphia where he completed 5 years of rigorous training. He is the first orthopedic surgeon to graduate from the FIU College of Medicine.
While in residency, Dr. Arango received extensive practice in all aspects of orthopedic surgery from world renowned faculty. In addition, he conducted clinical and basic science research, produced numerous publications in peer-reviewed journals, and presented his work at multiple scientific meetings. During residency, Dr. Arango was elected as an Emerging Leader by the American Orthopedic Association (AOA) and he was also elected as a resident liaison to the American Academy of Orthopedic Surgeons (AAOS).
After completion of residency, Dr. Arango pursued further specialization and completed a fellowship at Harvard University affiliates Massachusetts General Hospital and Brigham and Women's Hospital. Here he specialized in sports medicine, minimally invasive arthroscopy, shoulder surgery, and cartilage restoration.
Though he treats most fractures of the upper and lower extremities, Dr. Arango specializes in minimally invasive surgery. With the technique of arthroscopy, he uses small keyhole incisions to view a painful or problematic joint with a specialized miniature camera. Using special instruments he can treat patients via much smaller incisions than would traditionally be required.
Areas of Expertise
Arthroscopic surgery of the knee and shoulder
Shoulder replacement (anatomic and reverse shoulder arthroplasty)
ACL, MCL, LCL, PCL reconstruction
Meniscal repair
Rotator cuff tears
Superior capsular reconstruction
Labral tears
Shoulder dislocations
Cartilage Restoration (MACI, allograft, autograft)
Tendon tears (Hamstring, Quadriceps, Biceps, Patellar)
Arthritis
Knee pain
Shoulder pain
Running injuries
Muscular strain and sprains
Tendonitis
Fracture care of the upper and lower extremities
Hospital Affiliations
Memorial Hospital Miramar
Memorial Hospital West
Surgicare of Miramar Outpatient Surgery Center
Palmetto General Hospital
Hialeah Hospital
Larkin Palm Springs Hospital
Jackson West Medical Center
Academic Affiliations
Clinical Assistant Professor of Surgery
FIU Herbert Wertheim College of Medicine
Assistant Professor of Surgery
Dr. Kiran C. Patel Allopathic College of Medicine
Nova Southeastern University
Media
Dr. Arango is fluent in English and Spanish.